Pittsburgh carries on series of community dialogues across the region with new partners
March 2011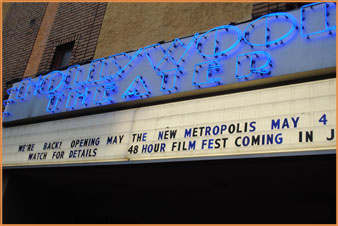 Continuing their efforts to bring together stakeholders in the Pittsburgh area, Leadership Pittsburgh is partnering with various community organizations to hold screenings of The New Metropolis to deepen the conversation about the region's future.
On March 24th, Leadership Pittsburgh organized a screening in Wilkinsburg in partnership with the Wilkinsburg CDC and the Pittsburgh History and Landmarks foundation. This screening was followed by a forum on April 7th at the Federal Reserve Bank of Pittsburgh conference center, at which filmmaker Andrea Torrice was present to discuss her film and the issues it describes.
Already, Leadership Pittsburgh is planning another community screening event on May 4th, working with group of local elected officials from the municipalities south of Pittsburgh. The New Metropolis will be the opening film shown at the reopened Hollywood Theater in the Dormont Borough.
Register now for the event…
Website Resources

10,000 Friends of Pennsylvania
Bayer Center for Non-Profit Management, Robert Morris University
Building One PA
Congress for Neighboring Communities (Connect)
Good Schools Pennsylvania
McKees Rocks Community Development Corporation
Penn Hills Community Development Corporation
Pittsburgh Community Reinvestment Group (PCRG)
Pittsburgh Partnership for Neighborhood Development (PPND)
Sustainable Pittsburgh
Temple University