New Metropolis Minnesota: Growing Together as a Region
Community forum, film screening sets off host of activities in the Twin Cities
Next stop for The New Metropolis is the Twin Cities. All are invited to the upcoming film screening and civic dialogue about the challenges and opportunities facing the region's older suburbs. The conversation will draw out themes impacting all communities.
New Metropolis Minnesota: Growing Together as a Region will use The New Metropolis as a springboard for cross-stakeholder conversations about how to strengthen Twin Cities suburbs on fiscal and social measures. The forum is an opportunity to engage new voices in Minnesota in the conversation about the Twin Cities' older suburbs at a time of pivotal leadership transition at the state and regional levels. Forum participants will view portions of The New Metropolis, hear from a diverse panel of regional, city and citizen representatives, and have the opportunity to pose their own questions.
The panels will provide a Minnesota context to the national episodes, touching upon local opportunities such as the change in leadership following the recent elections, how best to maximize current investments in a time of limited resources, such as the build-out of the transit system, and the connection between integrated communities and schools. Members of the audience will be involved in the conversation.
New Metropolis Minnesota: Growing Together as a Region is a partnership between 1000 Friends of Minnesota, Twin Cities Public Television and Torrice Productions with local support from the McKnight Foundation. The event will be held on Wednesday, March 30, 2011, from 6:30-8:30 p.m. at the Bloomington Center for the Arts, 1800 W. Old Shakopee Road, Bloomington, MN. A reception will follow the event.
The forum is free and open to the public but registration is required.
Click here to register or find more information at www.1000fom.org.
Host:
Terri Thao, Nexus Community Partners
Panelists:
Susan Haigh, Chair of the Metropolitan Council
Steve Devich, Richfield City Manager
Gary Cunningham, Northwest Area Foundation
Rodolfo Gutierrez, Hispanic Advocacy and Community Empowerment through Research (HACER)
Ahmed Jama, Eden Prairie Somali community advocate
Chris Stewart, former Minneapolis School Board director
Featured speakers:
Myron Orfield, Institute on Race & Poverty
Andrea Torrice, The New Metropolis filmmaker
Project Sponsors:
Surdna Foundation
Ford Foundation
Torrice Productions
McKnight Foundation
Advisory Organizations:
Alliance for Metropolitan Stability, Housing Preservation Project, Institute on Race & Poverty, ISAIAH, Metro Cities, Metropolitan Council, University of Minnesota, Urban Land Institute/Regional Council of Mayors
Join the Conversation!
New Metropolis Minnesota Invitation

Click on the image below to open the New Metropolis Minnesota Forum Invitation…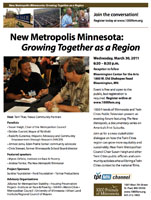 Website Resources

1000 Friends of Minnesota
Alliance for Metropolitan Stability
Housing Preservation Project
Institute on Race & Poverty
ISAIAH
Metro Cities
Metropolitan Council
Twin Cities Public Television
University of Minnesota
Urban Land Institute/Regional Council of Mayors