Reimagining the Region:
Building a New Detroit Metropolis

Join us for a film screening and community dialogue on Thursday, September 15, 2011, 6 – 9 p.m., at the Emagine Royal Oak, 200 N Main Street, Royal Oak, MI.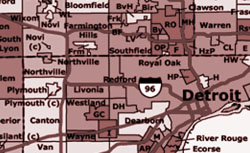 How can the city of Detroit and its first suburbs work together to create a vibrant and equitable region for the future?
The Reimagining the Region dialogue will feature a moderated panel with state legislators, policymakers and round table discussions with members of the community. Filmmaker Andrea Torrice will open the discussion with clips from her documentary film The New Metropolis.
This forum is part of The New Metropolis national civic engagement dialogue series on revitalizing America's older communities. It is made possible through the generous support of the Ford and Surdna Foundations.
Find out more about the community dialogue…

Join Envision Minnesota for a full screening of The New Metropolis films


Hear inspiring examples from communities managing change and participate in a group discussion about local solutions.
On Wednesday, Sept. 21 from 4-6 p.m. at Wood Lake Nature Center in Richfield, Envision Minnesota will host a full screening of The New Metropolis films with a group discussion to follow on how Minnesota communities are responding to the issues raised in the films, especially during this time of change. This conversation builds upon earlier discussions hosted by Envision Minnesota about shifting development patterns, resetting expectations and planning ahead in an uncertain time.
Location: Wood Lake Nature Center, 6710 Lake Shore Dr., Richfield (located near 35W). Accessible by bus via Metro Transit routes 515, 558, and 4. This event is intended for elected and appointed officials, government staff, community development practitioners or interested citizens — anyone who wants to lead their community into the future.
Register now. Envision Minnesota is a sustainable land-use nonprofit based in St. Paul, promoting thoughtful development to create thriving communities. More information available online at www.envisionmn.org.
New Jersey Communities Host
Conversations on Race
Conversations on Race, a community-wide conversation on integration, happened on May 18th in the first suburbs of South Orange and Maplewood, New Jersey. The event included a screening of The New Metropolis, followed by a panel discussion and roundtable dialogues among attendees. The conversation involved municipal leaders and residents from neighboring towns as well as other organizations in the state with a commitment to regional equity in municipal and regional planning.
Learn more about the conversation…
Detroit Event Invitation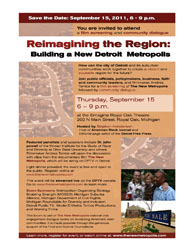 The New Metropolis Broadcast Times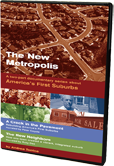 Watch The New Metropolis Detroit Public Media WPTV Channel 56 on Monday, September 5th.

Episode 1: A Crack in the Pavement, 10 p.m.
Episode 2: The New Neighbors, 10:30 p.m.

Reimagining the Detroit Region
Live Streaming Event


DPTV will be streaming the event live on Thursday, September 15, 7 p.m.

Watch at The New Metropolis Website on September 15th!