Reimagining the Region:
Building a New Detroit Metropolis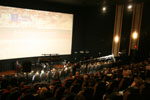 Approximately 205 citizens and community leaders came from Detroit and surrounding suburbs to the Emagine Royal Oak Theatre to view The New Metropolis and engage public officials in a dialogue.
A range of both suburban and urban civic, church, municipal organizations, legislators, university students, and seniors—black, white, and Hispanic— participated for the first time in a lively conversation about how regional collaboration was key.
Key themes covered were the similar challenges between Detroit and its older suburbs, as well as strategies to collaborate on key issues: overcoming the legacy of segregation, equity, housing, transportation sustainability and economic development.
Read more about the Detroit event…

The New Metropolis at the PolicyLink Equity Summit in November


New Metropolis staff will be working with MOSES staff at the 2011 PolicyLink Equity Summit to highlight Reimagining the Region: Building a New Detroit Metropolis, and how the film helped audience members move forward on regional cooperation among cities and suburbs, mass transit, economic justice, and race relations.
To learn more about the Equity Summit, go to www.equitysummit2011.org.
New Metropolis coming to the Bay Area
A New Metropolis film screening and community dialogue will be held in the San Francisco Bay Area in early 2012. Details will be announced soon.