PBS viewers and individuals can order a copy today by mailing in the Online Order Form or purchasing through PayPal-

Community groups and organizations can purchase The New Metropolis through Bullfrog Films.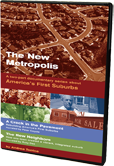 The New Metropolis explores the crisis spreading through America's older suburbs, once the birthplace of the American Dream. Built mostly in the post-war housing boom, these "first ring" suburban towns have gone from boom to bust, as development pushes farther out and leaves homes and businesses abandoned and afflicted by blight, growing poverty, white flight, and crumbling infrastructure. In two half-hour episodes, this groundbreaking PBS documentary examines the forces at work and effective community solutions.
The New Metropolis is now available on DVD, and includes:
Episode 1: A Crack in the Pavement, narrated by actor Peter Coyote. Follows two likable Ohio civic leaders on a mission to save their aging communities by working together to repair their broken infrastructure, conserve resources and revitalize their communities.
Episode 2: The New Neighbors, narrated by Academy Award nominee Ruby Dee. Follows the inspiring story of two ordinary people, one black and one white, who have successfully made racial integration the centerpiece of revitalizing their suburban New Jersey town.