New Metropolis Minnesota: Growing Together as a Region
Community forum, film screening sets off host of activities in the Twin Cities
A dynamic dialogue between public officials, community activists and concerned citizens occurred at the forum New Metropolis Minnesota: Growing Together as a Region. It drew a large, diverse crowd of over two hundred people to the Bloomington Center for the Arts.
The forum brought new voices into the conversation about the Twin Cities' older suburbs at a time of pivotal leadership transition at the state and regional levels. Forum participants viewed portions of The New Metropolis, heard from a diverse panel of regional, city and citizen representatives, and had the opportunity to pose their own questions.
One of the stars of The New Metropolis, Myron Orfield from the Institute on Race & Poverty and Andrea Torrice, introduced the forum with opening remarks. Sally Wakefield of Envision Minnesota, and one of the organizers of the event, described why issues facing first suburbs are critical for Envision's new work. Terri Thao from Nexus Community Partners facilitated the panel.
Panelists also included Collen Carey of The Cornerstone Group, Gary L. Cunningham of the Northwest Area Foundation, Richfield, Minnesota City Manager Steven L. Devich, Rodolfo Gutierrez of HACER, Met Council chair Susan Haigh, Eden Prairie Somali community advocate Ahmed Adam Jama, Superintendent Melissa Krull, and Chris Stewart of Action For Equity.
Carrying the conversation forward and to a wider audience, Twin Cities Public Television recorded the forum for inclusion in a new 60-minute program on the issues facing the Twin Cities' aging suburbs, called New Metropolis Minnesota, which began airing statewide in May 2011. Watch excerpts from the event in the video on the right.
New Metropolis Minnesota: Growing Together as a Region is a partnership between 1000 Friends of Minnesota, Twin Cities Public Television and Torrice Productions, and was sponsored by the Surdna, Ford, and McKnight foundations.
View article from the Minnesota Post about the event in the Twin Cities.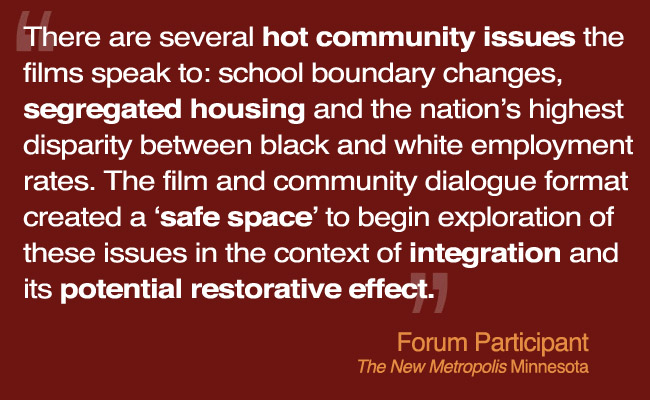 Video Excerpts from Minnesota
New Metropolis Minnesota broadcast dates on Twin Cities Public Television

Airing on TPT's MN Channel 2.2

Sunday, July 24, 9:00 p.m.
Monday, July 25, 3:00 a.m.
Monday, July 25, 9:00 a.m.
Tuesday, August 16, 8:00 p.m.
Wednesday, August 17, 2:00 a.m.
Wednesday, August 17, 8:00 a.m.
Wednesday, August 17, 2:00 a.m.

Go to the Twin Cities Public Television website to view broadcast times…
Website Resources

1000 Friends of Minnesota
Alliance for Metropolitan Stability
Housing Preservation Project
Institute on Race & Poverty
ISAIAH
Metro Cities
Metropolitan Council
Twin Cities Public Television
University of Minnesota
Urban Land Institute/Regional Council of Mayors