New Metropolis Minnesota: Growing Together as a Region

Join us for an important community dialogue on Wednesday, March 30, 2011, 6:30 – 8:30 p.m., at the Bloomington Center for the Arts, 1800 W. Old Shakopee Road, Bloomington, MN.
Filmmaker Andrea Torrice will launch the dialogue with clips from her documentary film The New Metropolis. The panel discussions will be hosted by Terri Thao of Nexus Community Partners, and will include the new Chair of the Metropolitan Council, Susan Haigh, Gary Cunningham of Northwest Area Foundation, Richfield City Manager Steve Devich, Eden Prairie Somali community advocate Ahmed Jama, HACER (Hispanic Advocacy and Community Empowerment through Research) executive director Rodolfo Gutierrez, former Minneapolis Board of Education director Chris Stewart, and other invited participants.
Twin Cities Public Television will be filming the forum to include in a companion program to The New Metropolis when it airs in May 2011.
The community forum is free and open to the public but registration is required.
Click here to register or to find more information about the forum, go to www.1000fom.org.
Educators and Community Groups Attend Workshop on How To Use The New Metropolis in their schools, groups, and communities

Twenty-four educators and community groups came together at PBS affiliate WVIZ/Ideastream in Cleveland, Ohio, to learn how to use The New Metropolis series to support their curriculums and activities in their communities and educational settings.
During the 3-hour workshop attendees developed and shared strategies to incorporate the film into their missions. Filmmaker Andrea Torrice answered participants' questions via video conferencing. Jennifer Schwelik of WVIZ/Ideastream facilitated the workshop. Featured prominently was the newly released Educator's Guide⁠, which was created in cooperation with WVIZ/Ideastream and Torrice Productions.
The New Neighbors shown at Jubilee Film Festival in Selma, AL
Part 2 of The New Metropolis, 'The New Neighbors' was selected to be part of the Jubilee Film Festival in Selma, Alabama, and screened on March 6th, 2011. The Jubilee Film Festival is part of the Annual Bridge Crossing Jubilee in Selma, Alabama, which memorializes the struggle for voting rights, and especially the events around Bloody Sunday, March 7th 1965, when Alabama State Troopers attacked peaceful demonstrators on their way to Montgomery, AL.
Visit www.jubileefilmfestival.com for the festival's selection…
Coming Up: New Metropolis Strategy Session in Detroit, Michigan, Thursday May 12
How can you use The New Metropolis films to promote your organization's work and engage public officials in constructive dialogues around regional equity and sustainability?
The Michigan Suburbs Alliance, MOSES and Working Films invite community groups, activists, educators and other interested individuals to attend a Strategy Session on Thursday, May 12th, in Detroit. John Powell of the Kirwan Institute for the Study of Race and Ethnicity at the Ohio State University will facilitate the event.
Video Excerpts
from Cleveland, OH
Join the Conversation in Minnesota!

Wednesday, March 30, 2011
6:30 – 8:30 p.m.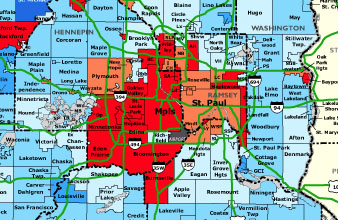 Bloomington Center for the Arts, 1800 W. Old Shakopee Road, Bloomington, MN


Register for the forum...
Coming Soon: Twin Cities Public Television Produce Companion Show to Air with The New Metropolis


Twin Cities Public Television will record the forum for inclusion in a new 60-minute program on the Twin Cities' unique challenges and opportunities, called New Metropolis Minnesota, which will air statewide in May 2011.
The New Metropolis Goes International

The French-American Foundation's website features an extensive library of resources that explore the French and American strategies to reduce discrimination and promote greater social justice for minority and immigrant populations.

The website now includes clips from The New Metropolis.

Go to the French-American Website…